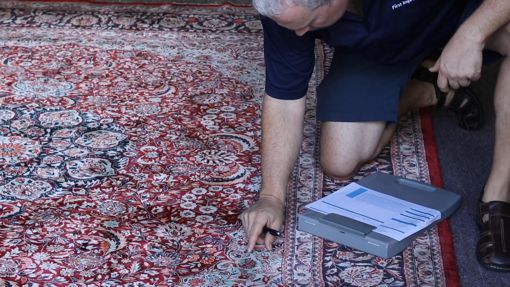 Pre-Inspection
Each area rug that comes in for cleaning is unique and has special needs and concerns of their own. Before we clean your rugs, we inspect them for pre-existing conditions that may affect our cleaning approach. Often, rug owners are not even aware that these conditions exist, so we will communicate any of our concerns with you prior to cleaning.
Pet damage
Structural damage
Insect damage
Odors
Stains
Discolorations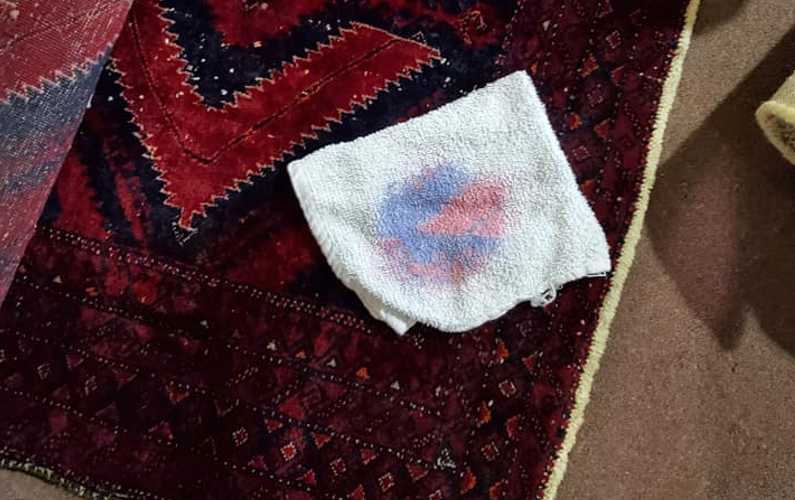 Dye Stability Testing
The dyes used in your Oriental rugs can be susceptible to bleeding or damage from daily living, spot cleaning at home, pet urine, and spills. We test them for colorfastness before we wash your rugs so that we know ahead of time what to expect on the wash floor and can plan ahead for any possible circumstance.
Collection Trays
The lower trays collect dust and heavy particles that are removed from your rugs.
Dusting
Being able to thoroughly dust damaging dry particulate soils and pet hair from an area rug sets us up for success on the wash floor. Rugs are treated with harmonic vibration and vacuumed on both sides to break up and release as much impacted dirt as possible before being washed.
First Impressions has acquired a new piece of equipment that is a game changer in the dusting of your fine oriental and contemporary rugs.
Now we can get even more dust and dirt out of your rugs. This machine is gentle but effective in removing dust, sand and dirt.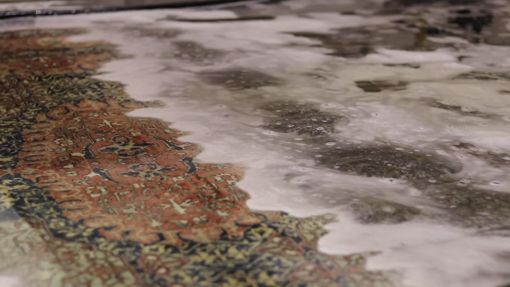 Washing
We use lots and lots of fresh water, specialty rug cleaning equipment, and cleaning solutions specifically designed for the specialty fibers and dyes found in Oriental rugs. This allows us to completely flush out heavy traffic soil, pet urine stains, and odors from your area rugs with amazing results and virtually no risk to the fibers and dyes.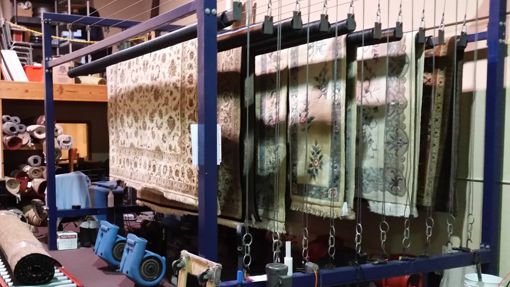 Rinsing & Drying
Our high-flow rinse and centrifugal water extraction system is second to none when it comes to rinsing your rugs clean. Because we are able to remove so much water from your Oriental and area rugs before we place them inside our temperature controlled drying space, they dry very quickly with no chance of mildew, running colors, or shrinkage.
 Pet Urine Decontamination & Odor Control – Guaranteed!
It's important to target pet stain bacteria and odor removal at the source. That's why we work hard to find where the pet stains are and treat them at the surface and all the way through the foundation fibers to the back of your rugs. Our Guaranteed Odor Control system also works well on cooking, nicotine, and musty odors. Exclusions to our Odor Control Guarantee apply in the case of tufted rugs and rugs with rotted foundation yarns caused by excessive pet damage.